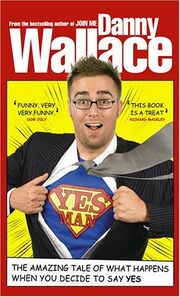 Basic Premise
Edit
The basic premise for the book is that a journalist takes the advice of an old man on a bus. What was the advice you might ask? It was simply "Say yes more". Danny Wallace took this and decided that the root of happiness for him was to be more positive. Constantly. So he decided to say Yes. Yes to every question which was asked to him. The tales and tribulations the reader goes through with Danny can be extremely funny and may cause you to fall off your chair with laughter. It is truly amazing how far the power of Yes will take Danny in his journey of discoverment.
Well that would be telling wouldn't it? The book is thoroughly recommended, and shows another side to Danny than comes across in Join Me.
Joinees In The Book
Edit
Several Joinees appear in the book, and several more are named but do not appear. However, Danny is quite careful not to make too much of a crossover between 'Join Me' and 'Yes Man'.
Joinees that appear or are named include:
Non-Joinees In The Book
Edit
Of course, there are many non-joinees in the book, including:

The book was first published on the 7th July 2005.
---
Read Danny's own take on his latest book here.
(this page is very much a work in progress and needs a lot more filling out)
Ad blocker interference detected!
Wikia is a free-to-use site that makes money from advertising. We have a modified experience for viewers using ad blockers

Wikia is not accessible if you've made further modifications. Remove the custom ad blocker rule(s) and the page will load as expected.