Join Date:Sent Pic Spring 2004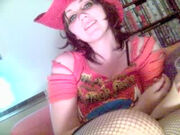 Silver Date: February 2005
Gold Date:
Birthday: 12th February
Where?: Glasgow, Scotland, The North, UK
Website?: http://shellvis.bebo.com/
In her own words
Edit
I'm a disco infiltrator but I'm packing a love gun. I like Celtic Football club, hairy men (facial or otherwise) who wear makeup and skirts, Kate Bush, being part of the Elite Poverty Jet Set (EPJS) and enjoying jokes about jobbies.
I also enjoy Centaurs (the mythical creatures), Skatt Bros (the gay disco outfit), Ike and Tina's cover of "Whole lotta Love", Kites (of the flying variety) and crap bands from the 80s who only released one single. On coloured vinyl. Today I am mostly listening to Cut Copy. I think Warren is better looking than Danny. And I like to wear hats.
And I don't know who put my picture up but thanks very much!
Heres my Join Me timeline...........
Sent Pic - Spring 2004
First meet - Summer 2004
First broken ankle - Nov 2004
First title - Silvered Feb 2005
First time groped by Steve Phillips - May 2005
First Karmageddon - Dec 2005
Hooray.
In the words of others
Edit
She's fabulous, she is.

She looks sweet and innocent, but beware! She will talk your legs off, a skill previously unseen in joinees. Well, alright, some people can talk, but Shell will have your legs ceasing to be part of your body and wandering off in an entirely different direction.
This marvellous young lady (and I use the term loosely, you understand) has entertained me for 10 hours solid on a megabus, taken dice snorting to a new level, has the most eclectic taste in magazines, and an expensive way of getting people to do what she wants.
But we love her :D
---
This woman is bonkers. But in a good way
She is also amazing and extremely bootiful. Get to know her...
Ad blocker interference detected!
Wikia is a free-to-use site that makes money from advertising. We have a modified experience for viewers using ad blockers

Wikia is not accessible if you've made further modifications. Remove the custom ad blocker rule(s) and the page will load as expected.