The Raymond Price Pub Crawl 3
Edit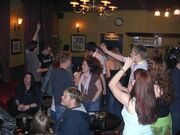 The Raymond Price Pub Crawl 3 was held on 7th May 2005. The competition was slightly different than in previous RPPC events in that in addition to the Random Acts of Kindness competition, there was also a Scavenger Hunt and a chance to open the "Envelope of Eternal Mystery".
Pubs visited:
Art Auction
Edit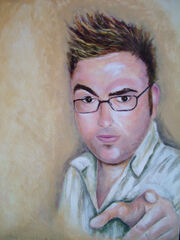 Joinees were asked to draw pictures of The Leader and bring them along to RPPC3 to be sold as part of the art auction. This great painting was done by Joinee Rogers and was bought by Gold Joinee Smith for £70.
See more RPPC3 Art Auction Pics here
£430 was raised at RPPC3 and a cheque was sent to St Catherine's Hospice in West Sussex in remembrance of Seph Lawrance who volunteered there before being murdered on 7th Jan 2005.
Winners (and other teams)
Edit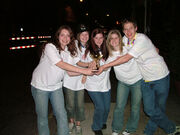 "4 children and it" (WINNERS): Joinee leChalk
"Reservoir Raymond" (who dressed in Reservoir Dog styly): Joinee Goldy, etc.
Jesus and the Sisters of Mercy: Joinee Snoring Jesus, Claire, Emma, Kate, Joany and Emma
RPPC Events
Edit
Further reading
Edit
The Raymond Price Pub Crawl concept.
Ad blocker interference detected!
Wikia is a free-to-use site that makes money from advertising. We have a modified experience for viewers using ad blockers

Wikia is not accessible if you've made further modifications. Remove the custom ad blocker rule(s) and the page will load as expected.