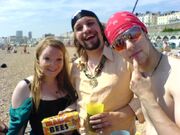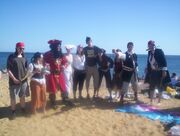 Pirates – and ninjas – are for some reason very prominent in the lives of a number of Joinees!
Pirates initially cropped up on the forum because of Speak Like A Pirate Day (September 19th), and somehow captured peoples' imaginations.
There have been four pirate-based Join Meets (at the time of writing, November 2008), all in Brighton, capital of piracy.
Another is planned for 2008:
External links
Edit
Ad blocker interference detected!
Wikia is a free-to-use site that makes money from advertising. We have a modified experience for viewers using ad blockers

Wikia is not accessible if you've made further modifications. Remove the custom ad blocker rule(s) and the page will load as expected.