Karmageddon! The Join Me book ends, pretty much with Karmageddon, an event forever part of Karma Army history. And despite the apocalyptic title it has been an inspiration to all those who Joined after the book came out, and Karmageddon 2, or K2 as it became known, had more Joinees turn up than The Leader anticipated.
The next Karmageddon will be happening in 2014!
But what is Karmageddon?
Edit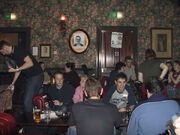 Simple. It occurs on the first weekend of December, traditionally. The Leader leads the way, down Oxford Street, his Joinees following him, brandishing big signs, leaflets and gifts (the gifts to be handed out at times designated by the blowing of a whistle), and once the crowd has travelled far enough, everyone heads off to the pub for the rest of the evening. Hooray!
Karmageddons so far
Edit
There 2343 two original Leader-organised Karmageddons:
Plus there've also been a couple of Karmageddon spin-offs and more "real" Karmageddi (Leader-approved, in order to gain the use of the title):
Not to be confused with...
Edit
Unfortunately, Karmageddon, like Karma-chanic, isn't the most difficult pun to think up, and Danny has been far from the only person. Maybe we should let these people know the error of their ways, just as a token of good will?
Ad blocker interference detected!
Wikia is a free-to-use site that makes money from advertising. We have a modified experience for viewers using ad blockers

Wikia is not accessible if you've made further modifications. Remove the custom ad blocker rule(s) and the page will load as expected.