From: Danny WallaceEdit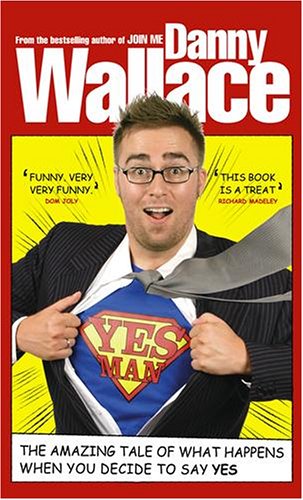 From the bestselling author of
JOIN ME
...
The amazing tale of what happens when you decide to say - YES.
YES MAN
Hello there! It's me! Danny Wallace! Sorry for sneaking into your computer like this, but I was wondering if I could tell you about my brand new book…?
You may have signed up to this list after reading JOIN ME: The True Story of a Man Who Started a Cult by Accident.
Well, my new book, YES MAN, is all about what happens when you decide to say Yes - to everything.
I had spent months not going out. Not seeing friends. Not doing anything. But after a chance encounter with a mysterious stranger, all that changed - thanks to three little words:
Say Yes More.
And so I did. I said Yes, in fact, to every favour, request, suggestion or invitation that came my way. It became a study in positivity. A study in self-help. A study in just how far I would go to prove a point.
I said Yes to a hypnotic dog. I said Yes to a psychotropic mindbomb. I said Yes to my friends, Yes to my family, Yes to myself… and Yes to a girl.
I even said Yes to those people in bibs who ask you for money. Several times. A day.
I became a minister. An inventor. I won £25,000. I got on telly. I lost £25,000. I travelled to Amsterdam, to Singapore, to Barcelona, and to a tiny town in South Wales. I nearly went mental. And now you can read all about it.
---
GET A SIGNED COPY! Yes Man comes out on July 7th. If you'd like to get a shiny, signed copy sent direct to your house on the day it comes out for only £6.59 (saving about four quid!), pre-order your signed copy here…
http://www.whsmith.co.uk/whs/go.asp?menu=Welcome&pagedef=/books/features/yesman.htm
---
Check out the video while you're there. I am going to draw a doodle in every ninth book I sign, just because I can.
And what if you're American? Surely you can't be expected to come over here to get a copy? Well no, quite right. If you're in the USA and you'd like a copy, go to:
http://www.amazon.com/exec/obidos/tg/detail/-/1416900667/qid=1117711208/sr=8-1/ref=sr_8_xs_ap_i1_xgl14/102-8904727-3788158?v=glance&s=books&n=507846
I'll be doing a few bookreadings in the UK and the US in the summer. And I'm excited to say that Warner Bros., Mike White and the happy Harry Potter people have bought the film rights along with - hurrah! - Hollywood hero JACK BLACK… more on that soon!
---
MY SITE Hey - my new site… http://www.dannywallace.com is now much more frequently-updated, with news on my upcoming BBC2 and SkyOne series, new books, adventures and even a brand new forum (with precisely no posts on it… be the first! Sign up now and say hello!).
JOIN ME The world of Join Me continues to march forward, looking healthy and happy… the next meet-up is in BRIGHTON, on JULY 16th… should be a good one, attendance is already looking up on last year, with Joinees Sweeney and Kennington on the case. Fancy coming along and undertaking random acts of kindness on a large scale? Check the Join Me site for details… http://www.join-me.co.uk
One more thing - it's now June 9th. Or maybe 10th, depending on when you open this. If you're struggling for a good deed this Good Friday, why not do this one... Text the letter C to 84599 - it'll cost you £1.50 but the first 1.6 million raised goes to the Princes Trust charity - and by sending the text before June 12th, you're giving yourself the chance of winning two tickets to the magnificent LIVE8 concert this summer... which has to be worth it. Anyway. Just a thought.

And that'll be that! I'm off to say Yes to some more random things.
Danny http://www.join-me.co.uk
Ad blocker interference detected!
Wikia is a free-to-use site that makes money from advertising. We have a modified experience for viewers using ad blockers

Wikia is not accessible if you've made further modifications. Remove the custom ad blocker rule(s) and the page will load as expected.