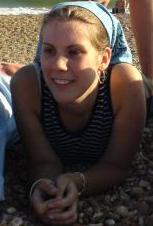 Join Date: Dec 2003
Birthday: 17/06/85
Where?: Shropshire and Plymouth
In her words
Edit
Simply read Joinee Dan Jackson's wonderful account of my life below! Most details are almost correct, with some interesting embellishments in places...!! But hey, it saves me from doing it! *I Love him to bits though :)*(Again added by Dan!)(No it Wasnt)
In the words of others
Edit
Well, I don't know what to write for this so please forgive me if I go on for a bit. My name is Tam, I live somewhere that I can't quite remember, so I'll just say Plymouth where I go to university studying to be a teacher. I recently went to Germany where I was placed for my teaching placement, I think I taught them a few lessons but I can't be sure until they take their exams so fingers crossed. I got to stay with the PWRR people, dont ask me what they do, I can't remember, lol. I'm told that I'm small, but all I say in return is, you're just tall. I'm looking foward to being a teacher as I'm hoping to make a difference in people's lives and I've always been fascinated with teaching. I'm looking to go to as many meets as possible this year, starting with the Brighton Pirates meet which is being orgainised by the legendary Joinee Jackson who is absolutely great.
Ad blocker interference detected!
Wikia is a free-to-use site that makes money from advertising. We have a modified experience for viewers using ad blockers

Wikia is not accessible if you've made further modifications. Remove the custom ad blocker rule(s) and the page will load as expected.