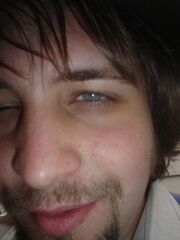 Join Date:
Silver Date:
Gold Date: Karmageddon 6
Website?:

Tim was controversially born in Pinner in Middlesex, but promptly moved to East Grinstead in Sussex, where he spent his childhood, all in one shop.
His youth was marked by poor health and consequently he was educated at home by private Tudors. He developed an interest in astronomy at the age of six and was elected to the British Astronomical Association at the age of 11.
Tim was a prolific petty criminal as a teenager. He moved from his parents' home to live with an aunt a hundred yards away until he moved to Gloucester, where he took a job in a slaughterhouse. He was fined for theft in Hereford in April 2000.
He soon after joined the Navy and served with Underwater Demolition Team 12 during his time on active duty. A lover of both marine life and explosives, Tim found this posting a mixed blessing and has, to this day, refusing to talk on the subject.
After his early retirement from active duty. He moved to a small flat above a brothel in Calais where he constructed a home-made reflecting telescope in his garden and began to observe the Moon. He loves the Moon & has done ever since. Because he is a simpleton.
In March of last year he was offered an acting role, entirely out of the blue & with no previous experience in Walt Disney's "Cars". He played a narcoleptic window and, while widely considered to have put on an exceptional performance, the film was a box office flop.
Tim currently despoils Wantage and is trying his hand at a real job. He recently obtained a blackberry though has, of yet, very little idea of how to use it.
What does the future hold for this intrepid ne'er-do-well? Only time shall tell.
In his own words
Edit
I masturbate too hard.
In the words of others
Edit
Tim is a fetid disease creeping across the surface of this world. He is selfish, flatulent & only has one testicle. He is scared of pigeons & easily distracted by all that is shiny.
The best thing about Timothy "Retardo" Kennington is that one day, he will die.
We are the best of friends.
Tim is sometimes Brighton-based, when he can make his mind up, and was a key part of organising the Day of the Dragon meet along with... me!
He has also been awarded the best Pirate costume prize. For wearing his normal clothes.
awww he's wuuverly!
Ah what a Man, What a Man!!!
Ad blocker interference detected!
Wikia is a free-to-use site that makes money from advertising. We have a modified experience for viewers using ad blockers

Wikia is not accessible if you've made further modifications. Remove the custom ad blocker rule(s) and the page will load as expected.