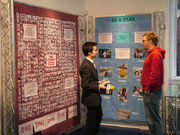 Yorkshire Joinees (and ones who had travelled from further afield) joined together in Yorkshire in the presence of Our Glorious Leader and Platinum Joinee Whitby for the opening of the Join Me exhibition at the Wakefield Media Centre.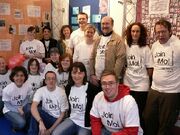 We met on the steps of the cathedral for the photocall and doing of
RAoKs
galore all over
Wakefield
Town Centre - from giving out
sweets and balloons to carrying a ladder down the High Street for one (very grateful) lady and buying a pint for an old man.
The exhibition was opened and we consumed some sandwiches and glasses of wine and then went and did some more RAoKs in Wakefield. Once the journalists were disppointed in their quest to find a down side to the whole Join Me "thing" we adjourned to the Inns of Court pub for consumption of a few beers. Later we gate crashed Danny's reunion with an old school friend and went for a curry.
Ad blocker interference detected!
Wikia is a free-to-use site that makes money from advertising. We have a modified experience for viewers using ad blockers

Wikia is not accessible if you've made further modifications. Remove the custom ad blocker rule(s) and the page will load as expected.