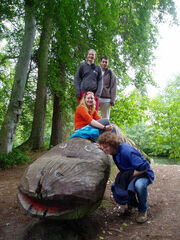 Visit the main site by clicking here!
The first annual Pilgrimage was JOINverness Pilgrimage 1 on Saturday 24th July 2004. The second, JOINverness Pilgrimage 2 was, predictably enough, in 2005 — on Saturday the 13th of August.
The fifth was on the 3rd of August, 2008. The next is due in August, 2009.
Silver Joinee Varwell came up with the original idea — because Inverness had been featured in the book, it was felt that it needed a big meet. It's called a Pilgrimage because Inverness is the "spiritual home of Join Me", and a main part of the meets is a visit to the Cathedral to shout "KNOB!", as immortalised in the book when Danny visited Gareth Saunders. Please note that we do generally respect the sanctity of the building when we visit, and there's lots of other stuff done, mostly RAoKing, eating curry, and going to the pub.
Information about the fifth meet, provisionally to be held in July 2008, will be here soon, and also on the Join Me forum and at the local Join Me Highlands website here.
Ad blocker interference detected!
Wikia is a free-to-use site that makes money from advertising. We have a modified experience for viewers using ad blockers

Wikia is not accessible if you've made further modifications. Remove the custom ad blocker rule(s) and the page will load as expected.