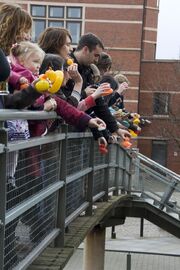 Good Good Friday V, a.k.a. GGF5, was the fifth in the Good Good Friday series of Join MEets, at which Joinees perform Random Acts of Kindness ("RAoKs") around the streets of Nottingham, UK, with the organisational backup of the local Joinees, Team Nottingham.
It took place on the real Good Friday, and the surrounding days, around 21st March 2008.
The event included a "north versus south" football match on the Saturday, the fourth time this traditional event has taken place. The north enjoyed a 4–1 victory — returning the trophy to the north after a year in the south. This evens the scores in the eternal championship.
Overall, over £400 was raised for charity.
Some photos from the meet
Edit
Lots of Joinees put their photos online these days. Here are a selection from GGF5:
Ad blocker interference detected!
Wikia is a free-to-use site that makes money from advertising. We have a modified experience for viewers using ad blockers

Wikia is not accessible if you've made further modifications. Remove the custom ad blocker rule(s) and the page will load as expected.