If you came here looking for some fascinating information, then I am afraid you are going to be sadly disappointed.
Potted History
Edit
I joined shortly after the book first came out, and took part in Karmageddon 2, as well as several of the Edinburgh meets. I have recuited quite a few people, most notably Joinee Twinkle (my sister)
Activities
Edit
I tend to be quiet, and post on the forums rarely, but I am actually quite active, performing a RAOK every week as far as possible, if not more.
I am quite shameless at getting 'Join Me' promoted, and have managed to get articles published in my staff newsletter as well as the 'Border Life' magazine (for which I was 'Silver'ed) and at any large group event I attend - training sessions etc.
I am often seen at Karmageddon doing something that involves having a loud voice, usually auctioning or raffling.
I am an avid player of football at GGF and have played for Team North for the last three years.
Scary Pictures
Edit
There are few photos of me, but in case you really need to know, this is a good one of me at the meet in Wakefield. (I'm the tall idiot at the back) - if you know who any of the others are, please let me know (or add details to this page) - apart from :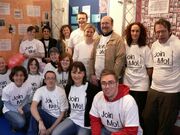 Ad blocker interference detected!
Wikia is a free-to-use site that makes money from advertising. We have a modified experience for viewers using ad blockers

Wikia is not accessible if you've made further modifications. Remove the custom ad blocker rule(s) and the page will load as expected.