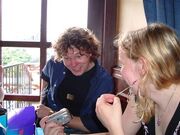 ...strictly speaking, "Platinum Joinee K", and really Kieran Turner, but he'll happily answer to just "K" :)

Joining date: sometime in 2003
Silver Date: sometime in 2004 (promoted by Danny, rejected by K, demoted by Danny, plead by Danny, accepted by K, remoted by Danny!)
Gold Date: Good Good Friday 2, 2005 (at which Mhairi cried!)
Platinum Date: along with Joinee of the Year at Karmageddon 8, 2010 (with an apology from Danny who knows K doesn't strictly approve!)
Birth Date: 9th October, long ago
Where?: Brighton / Aberdeen / Edinburgh / Liverpool.
Website?: Aid Convoy, his humanitarian aid charity / work, or some other stuff.
Pirate alias: Captain K. Yarr!
Title awarded at Loverpool III: "Fluffy Mod", for being the, er... fluffy one, amongst the moderators on the Joinee forum. (Titles are purchased for oneself or others in a charity auction at every Loverpool.)
Joining details
Joined sometime in late 2003, or possibly early 2004, thanks to Joinee Varwell, who was an old friend from Aberdeen University who I got to know and trust while we were both involved in a humanitarian aid convoy to Kosova. Having done very little about being a Joinee, except thinking it was rather a nice idea, I finally dived into the collective after being stunned by the amazing people I met at my first meet, Join Me June, which Simon (aforementioned Varwell) encouraged me to attend in 2004. The brilliantness carried on into more amazing meets that summer, including the Brighton Pirate Meet (I) and the first JoInverness "pilgrimage", at which I met my favourite frog ;-) That's the very best thing about Join Me for me — it's introduced me to so many people who are now amongst my very close friends.
Silvered by Danny via Joinee Phillips's telephone from the Cock. I was the fastest ever promoted, demoted, and "remoted" Joinee, after telling Danny that I didn't really approve of Silvering, since it seemed like rank amongst Joinees. Danny agreed to undo the silvering but was rather depressed about it, and this being a quite unthinkable state of affairs, it was instantly agreed that — in the interests of world peace and happiness — Joinee K would henceforth be Silver Joinee K.
Golded by Danny in person at Good Good Friday 2 (2005), for "constantly doing all sorts of RAoKs all over the place". Or something like that, nobody was sober enough to know for sure, but Joinee Mhairi certainly cried.
Platinumed (er, "platinumned"? "platinummed"? ah well...) by Danny at Karmageddon 8 in London in December 2010, along with an introduction in which Danny acknowledged the irony. At the end of the same awards speeches Danny also paid tribute to K's recent exploits (being kidnapped whilst leading a humanitarian aid convoy!) and made him Joinee of the Year for 2010!
Ad blocker interference detected!
Wikia is a free-to-use site that makes money from advertising. We have a modified experience for viewers using ad blockers

Wikia is not accessible if you've made further modifications. Remove the custom ad blocker rule(s) and the page will load as expected.