a.k.a. Join Me Pirates!Edit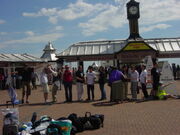 The first Brighton pirate meet took place in June 2004.
After chatting to lots of Joinees about it at Join Me June, Joinee Lady Laura put lots of effort into arranging the meet, and along with Kieran (Joinee K) accomodated an unfeasibly large number of attending Joinees in lovely but insufficiently enormous Brighton flats!
Activities during the day included:
The first official formation of the word "Join Me" using only our bodies, outside the pier
A sandcastle competition (won by Silver Joinee Spanna)
A RAoK on behalf of all Brighton - a beach clean-up thinly disguised as a treasure hunt!
A ride on a Victorian electric train along the beach
Much use of frisbees and the odd cutlass
A very drunken trip to see a band play, which also involved an incident with the Thai Ladyboys and Joinee Kennington
Several people groping Silver Joinee Bing
A lovely mini-picnic in Sussex Square on the Sunday
The last ever sighting of the Join Me Hat, passed on to a pair of Hastings Joinees, also unseen since
External links
Edit
Many photos were taken but most have been removed from MSN due to lack of space. They will be archived elsewhere shortly.
Ad blocker interference detected!
Wikia is a free-to-use site that makes money from advertising. We have a modified experience for viewers using ad blockers

Wikia is not accessible if you've made further modifications. Remove the custom ad blocker rule(s) and the page will load as expected.