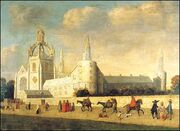 It's about time Aberdeen had a page.
Silver city
Edit
Made of granite, Aberdeen looks grey but is in fact full of good cheer and has great potential as a Joinee recruiting ground. Lots of people here are just so nice.
Alma mater
Edit
Some Joinees were at Aberdeen University, including Silver Joinee Varwell and Gold Joinee K. The latter of whom is living there at the moment.
In addition to those mentioned above, and Joinee Tigger who has just left, for the moment at least, there are Joinee Eli and Pete, known on the forum as beowulf1970. There are others too, who will hopefully add themselves to this page at some point.
Join MEets
Edit
There isn't an official Join Me pub or regular meet in the city yet. A small meet was held in 2005 in the Prince of Wales. A more likely candidate for small gatherings might be Ki:Lau café (opposite the famous Ma Cameron's) on the basis that it's excellent, the people are lovely and deserve RAoKing, and it's not licensed so it's kids-friendly. It's also open until 11pm which is kinda handy.
Ad blocker interference detected!
Wikia is a free-to-use site that makes money from advertising. We have a modified experience for viewers using ad blockers

Wikia is not accessible if you've made further modifications. Remove the custom ad blocker rule(s) and the page will load as expected.